It's November 18th, 2014, and the opening night of the Six-Days of Ghent. We were at the entrance of the legendary "Kuipke" velodrome. Man and woman from all ages and social classes have gathered to witness a competition amongst world's best track cyclists. But it's not just about cycling – many people are here for a party that will go on for another five nights.
As soon as you enter the velodrome, you will be hit by loud disco music and roaring derny's accompanied with the smell of fried onions, hamburgers and Belgian beer. The atmosphere in the venue is something exceptional. The opening night of the Ghent Six-Days races is a big event on the social calendar of this city, directed by the famous track cyclist Patrick Sercu.
't Kuipke is located at Citadel Park in Ghent, East Flanders. A literal translation of t' Kuipke is 'the little tub'. When you enter 't Kuipke for the very first time you are immediately impressed by the dimensions of the wooden oval. The track is only 166 meters long with extremely steep 48% banks in the corners. For the 6-day riders this small and steep track means a difficult technical ride, very different from most other 6-day tracks that are 250m to 333m in length. For the 6-day racer 't Kuipke means short straight-aways and tight quick turns. The centrifugal force will literally whip the track cyclists through the corners and catapult them out down the straightaway. Many track cyclists have said; if you can ride here, you can do it anywhere…
In between team- and individual eliminations, flying lap time trials, madisons, super sprints and derny races we go fueling up at the bar. Next to us a tall man in his seventies, wearing an old cycling jersey is writing in his pocket notebook. He is so focused that he forgets about the queue at the bar. A cacophony of applause and cheering from the spectators indicates a new race is about to begin. While the bartender serves our drinks, the tall man checks his watch, takes a few more notes and disappears in the crowd.
We are at the center of the track and this is where the party is going on… along the way we meet people dressed up in carnival costumes, groups of friends singing along to drinking songs, laughing, dancing and treating themselves to local beer. While the crowd was dense and constantly moving, the tall man catches our eye again; he's alone, observing and analysing the performance of the cycling teams.
Out of curiosity we decide to approach the man for a chat. His passion for the Six-Day race event runs deep he says; ever since he was a child he has been facinated and intrigued by track cycling. He tells us he had never been able to cycle due to medical reasons and about his dream to share this passion with his son. The bell indicates the final lap. The man checks his watch and takes another note in his book. He became a football player he said – a good one. He rode his track bike twice and it's been catching dust for the last 35 years he continued…
We told the man about our passion and exchanged contact details. What follows next is the result…
This Benotto pista frame has it's orginal, beautiful "Champagne" paint and decals. The chrome forks are in perfect condition! It came with a mix of low-quality components – but we knew what to do. We spent almost 2 years sourcing Campagnolo Record pista, NISI, and Cinelli parts from all over the world, cleaning the frame carefully and building it up slowly, with close attention to details and period correctness.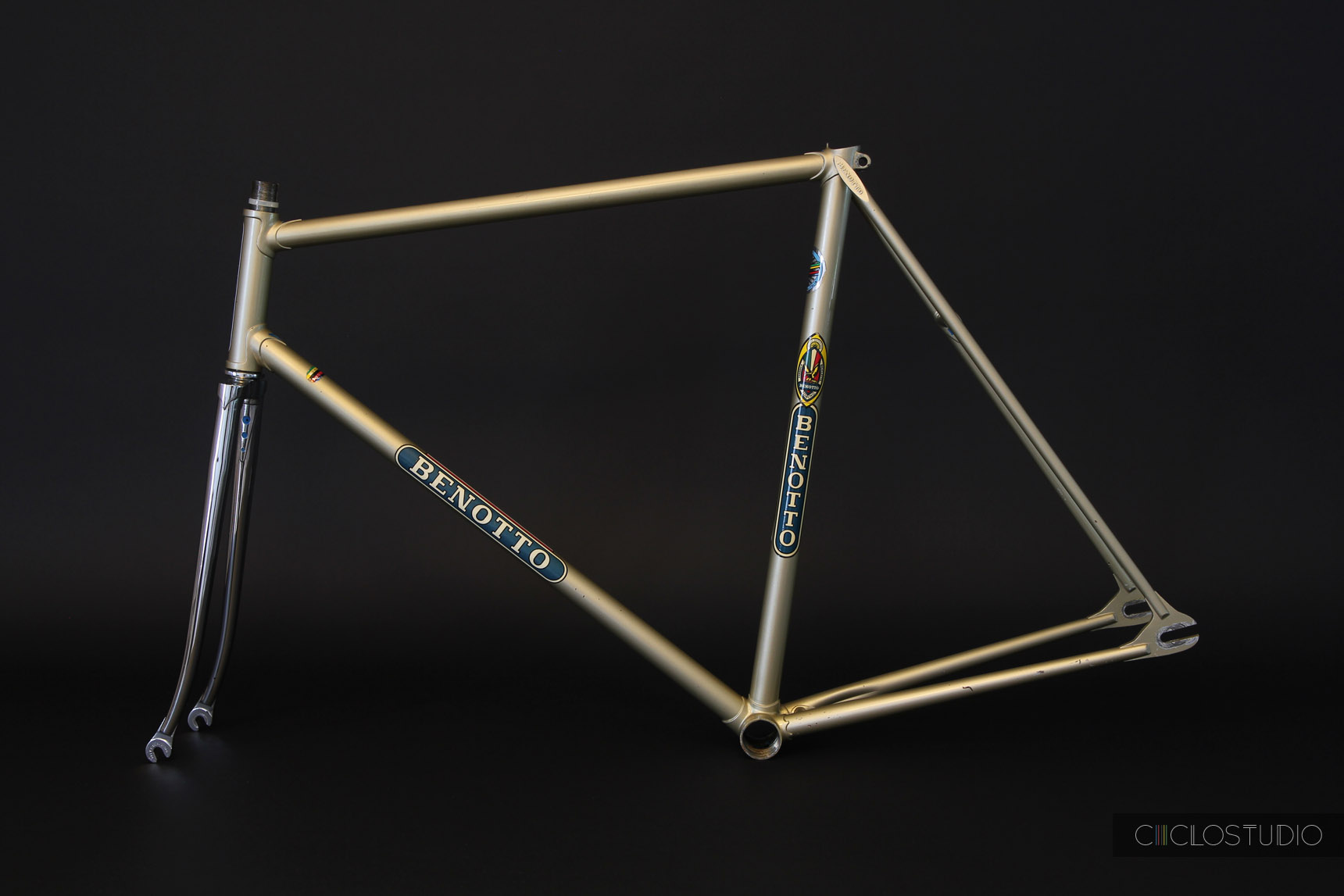 A closer look at the lug details and decals…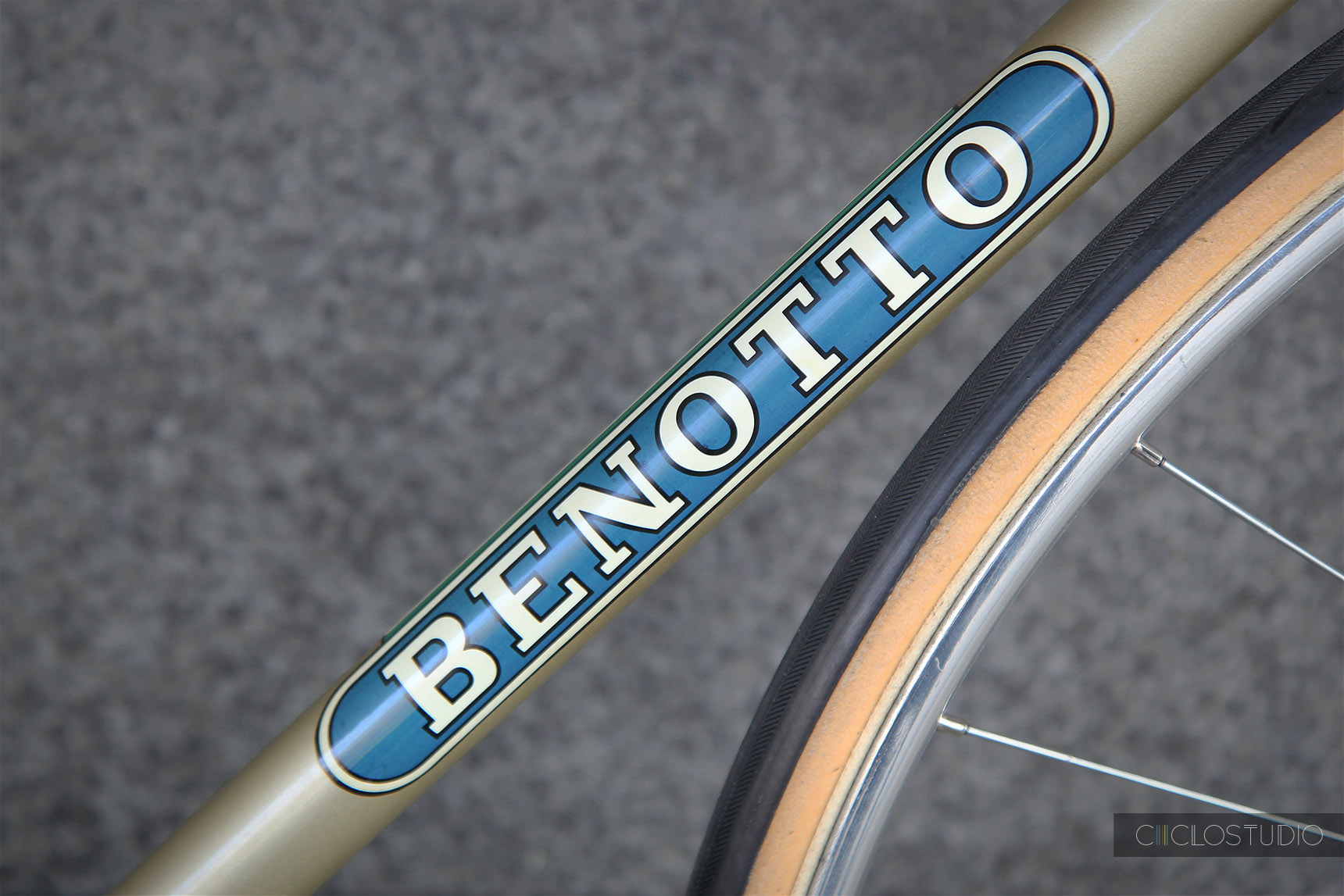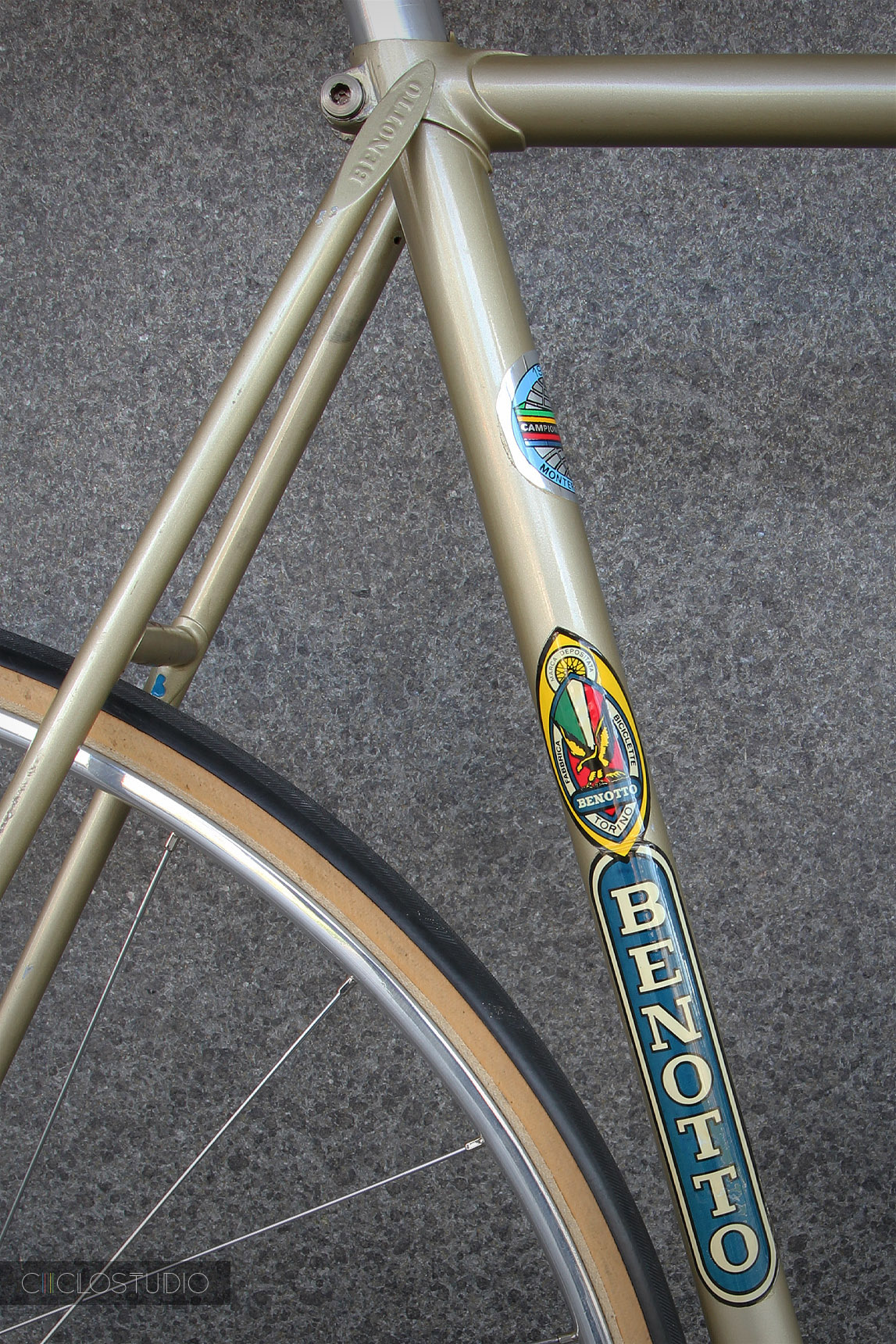 Cinelli pista components and Benotto handlebar tape – what else!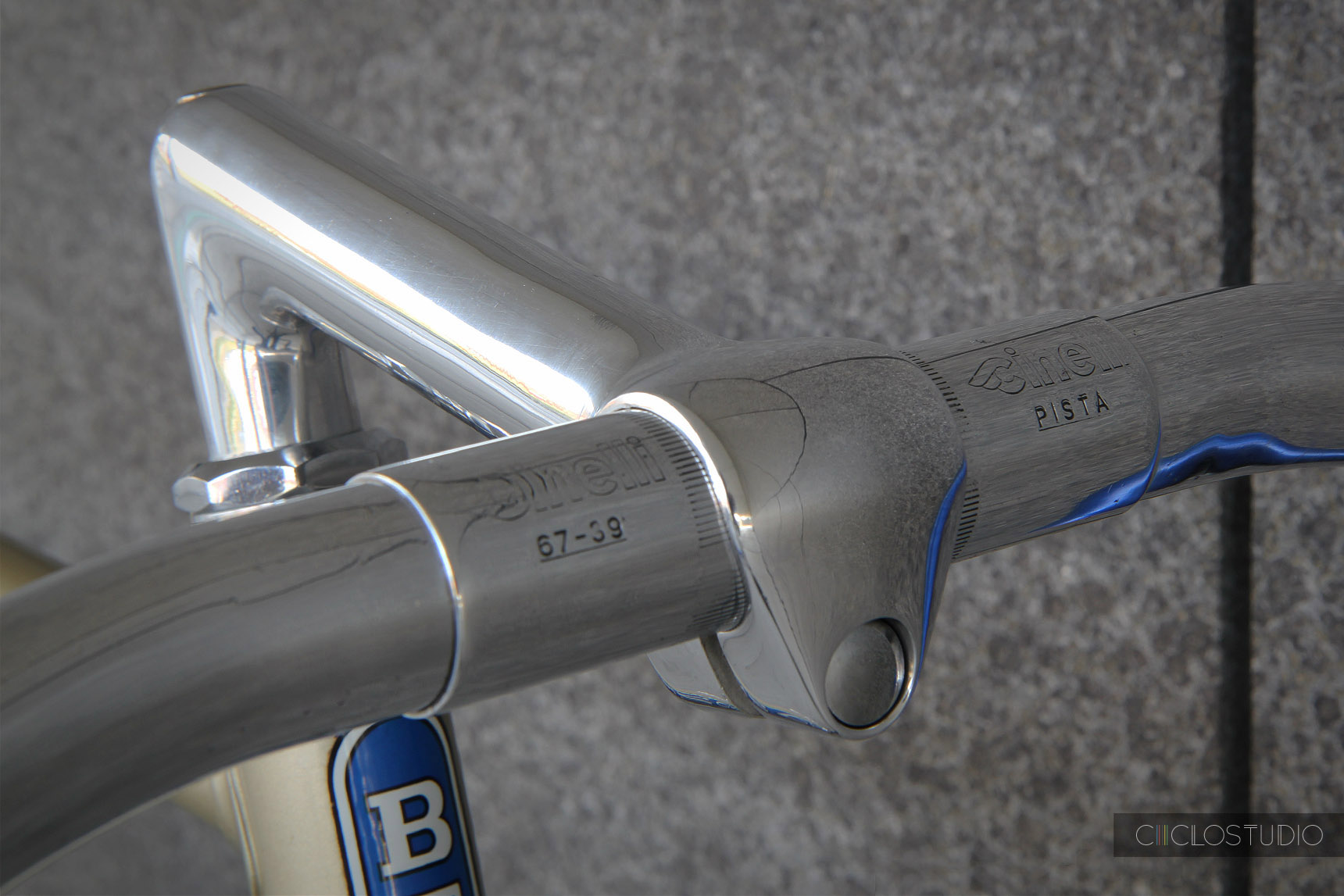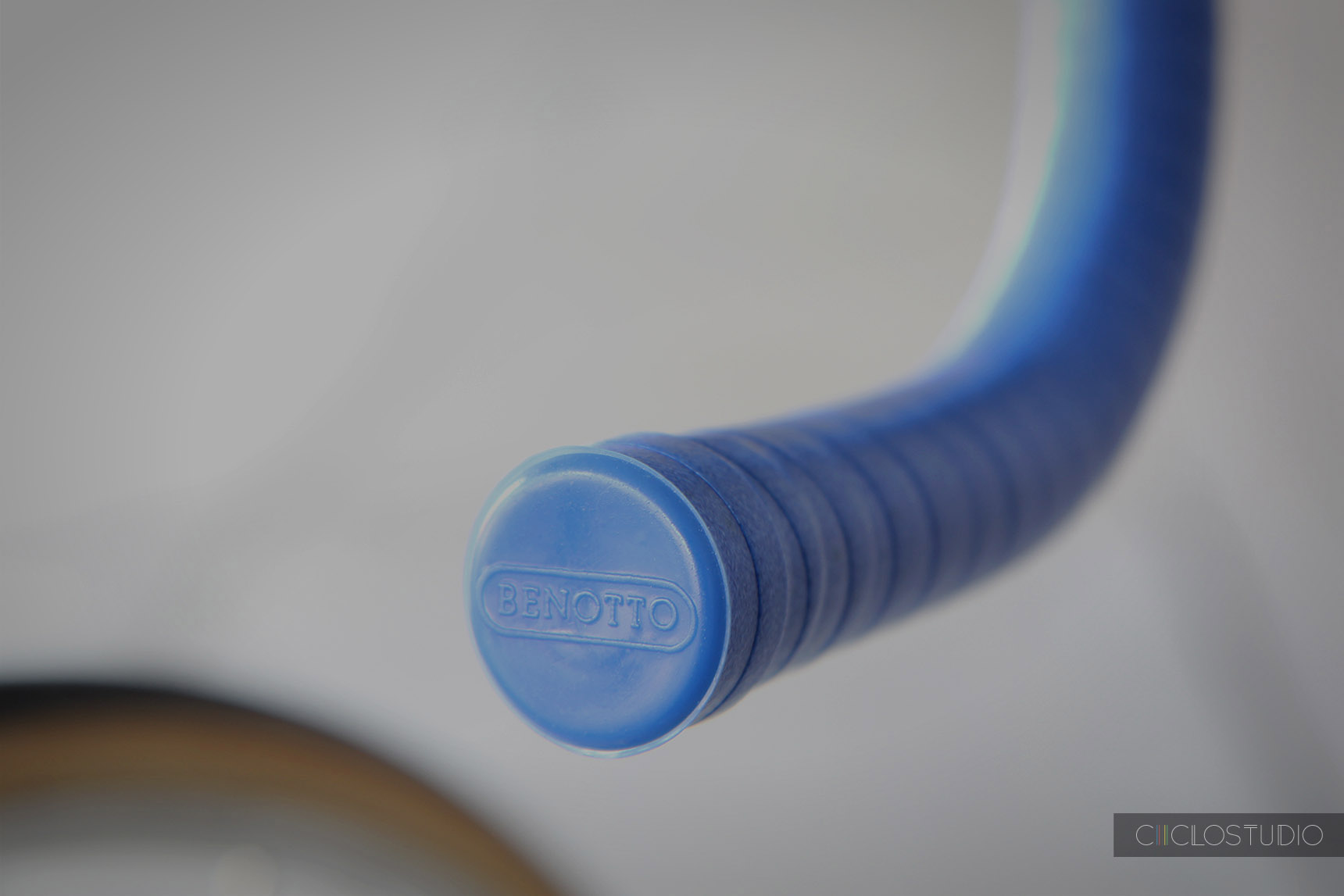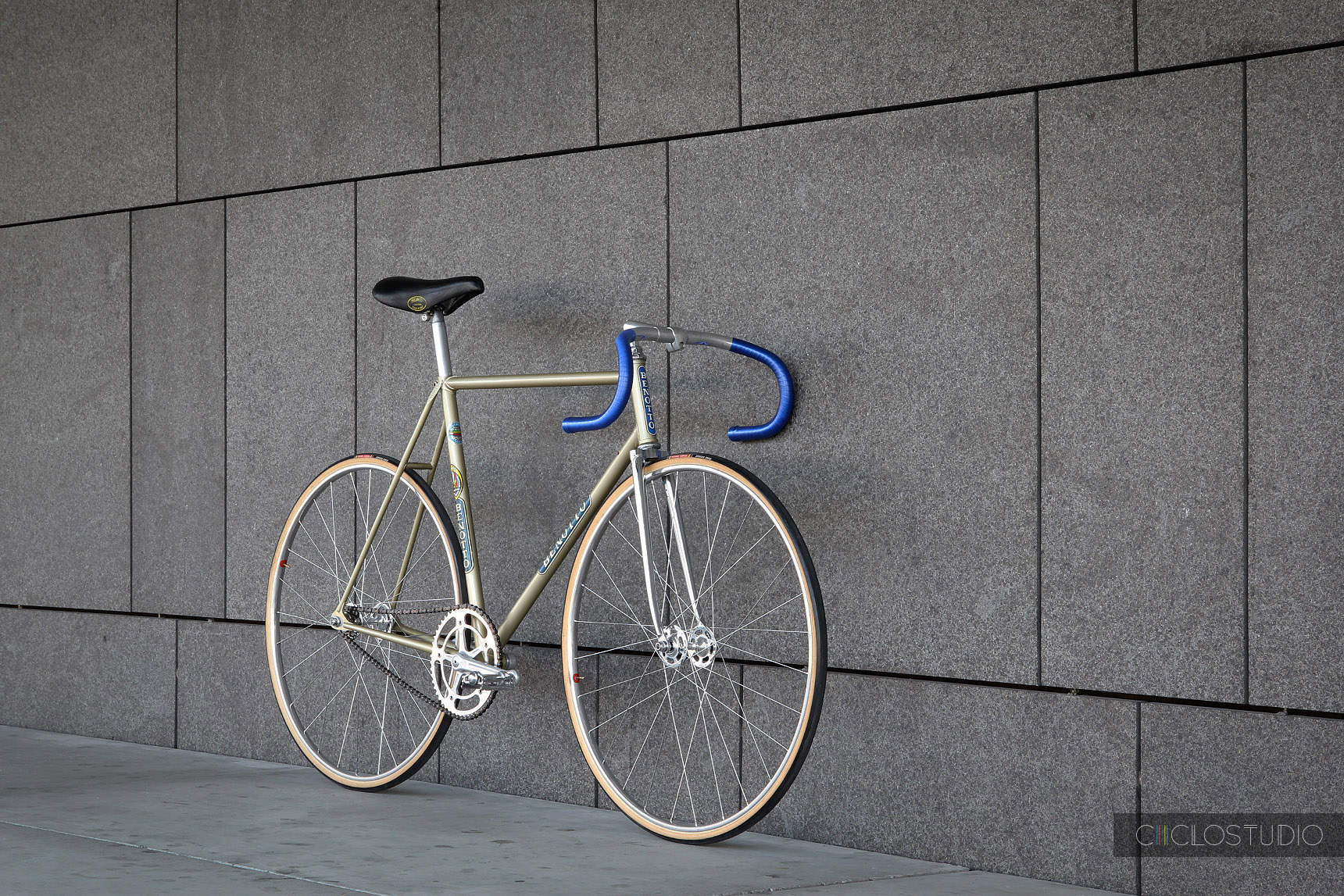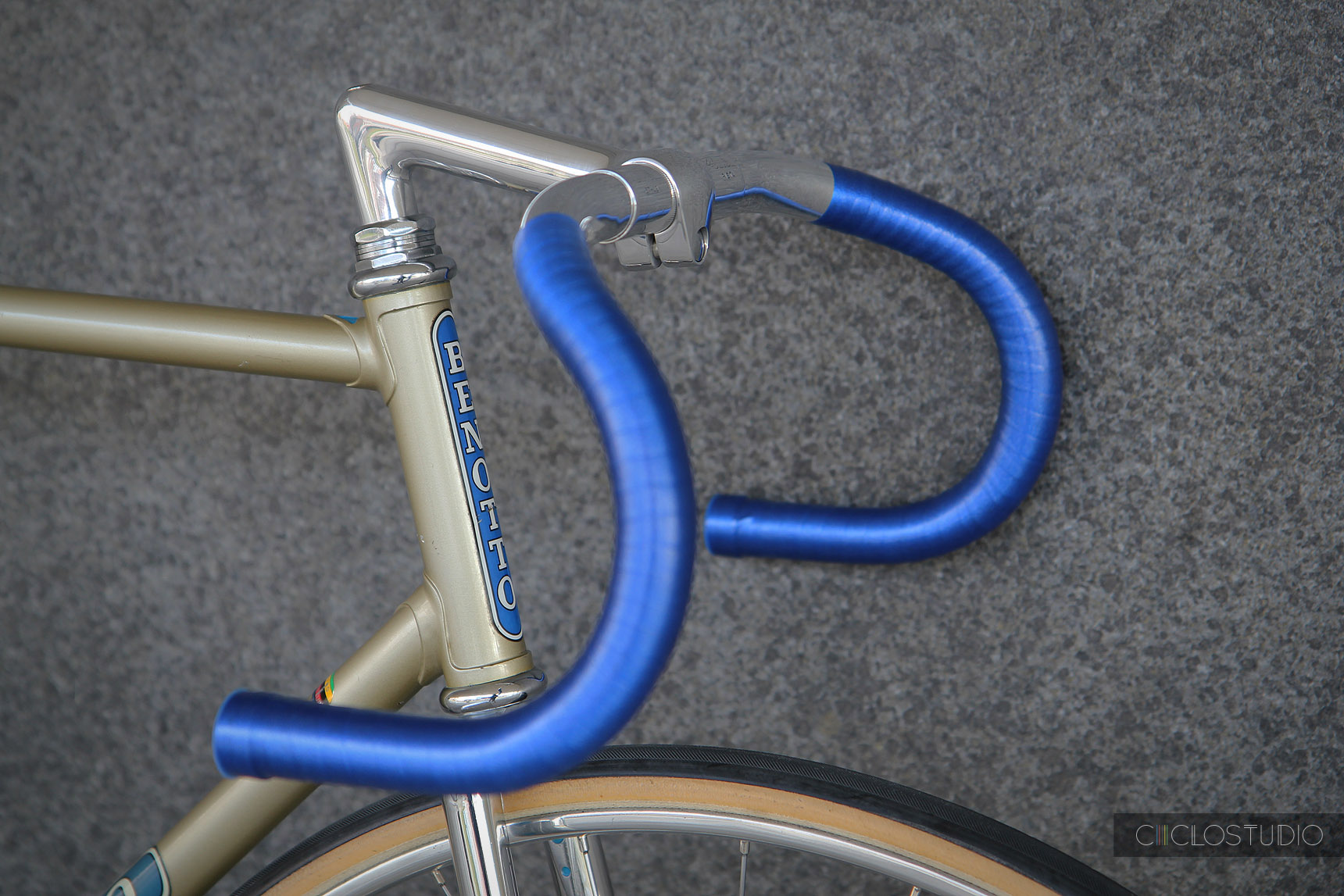 Frame details, Cinelli Unicanitor saddle, Campagnolo Record pista groupset and NISI pista Speciale rims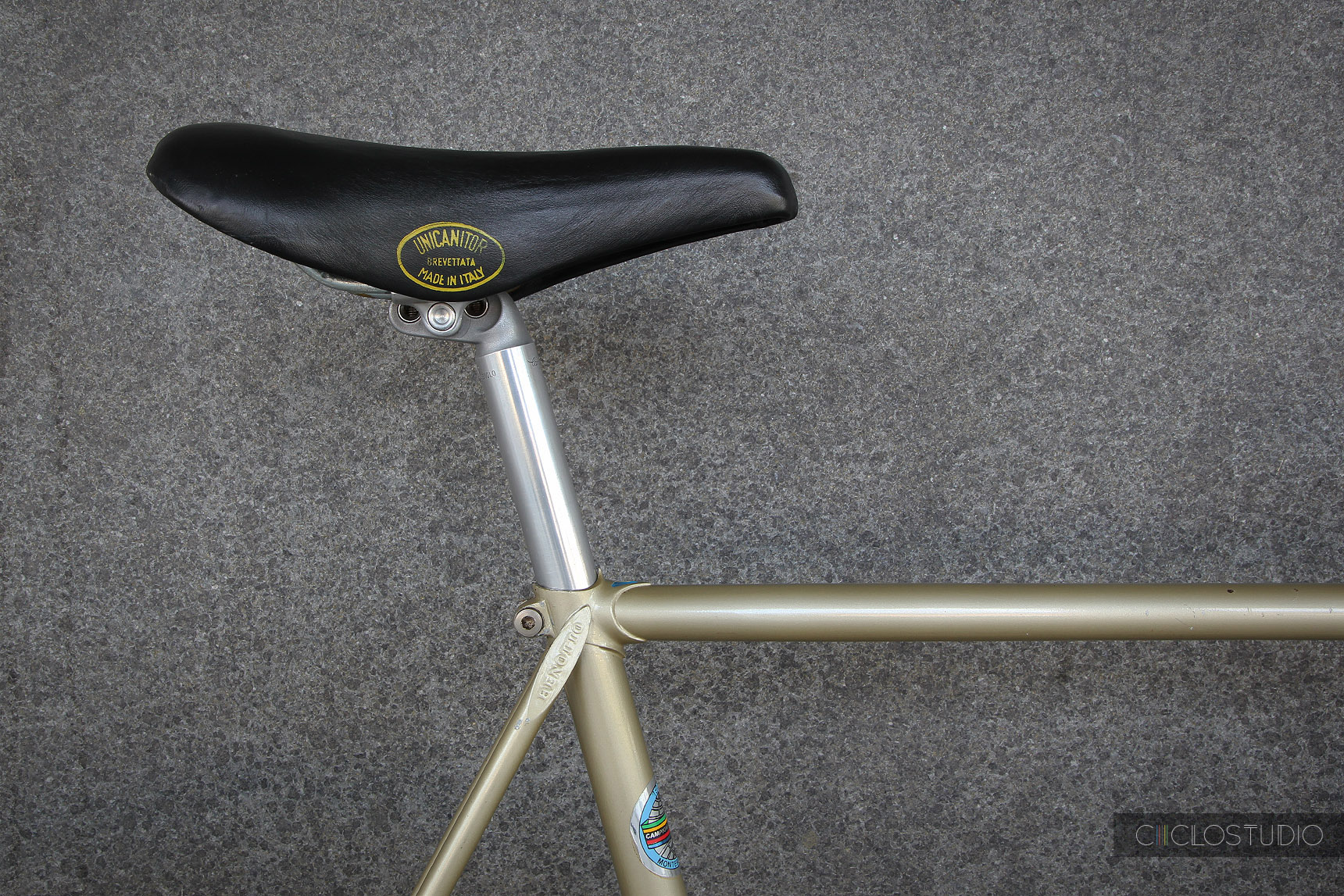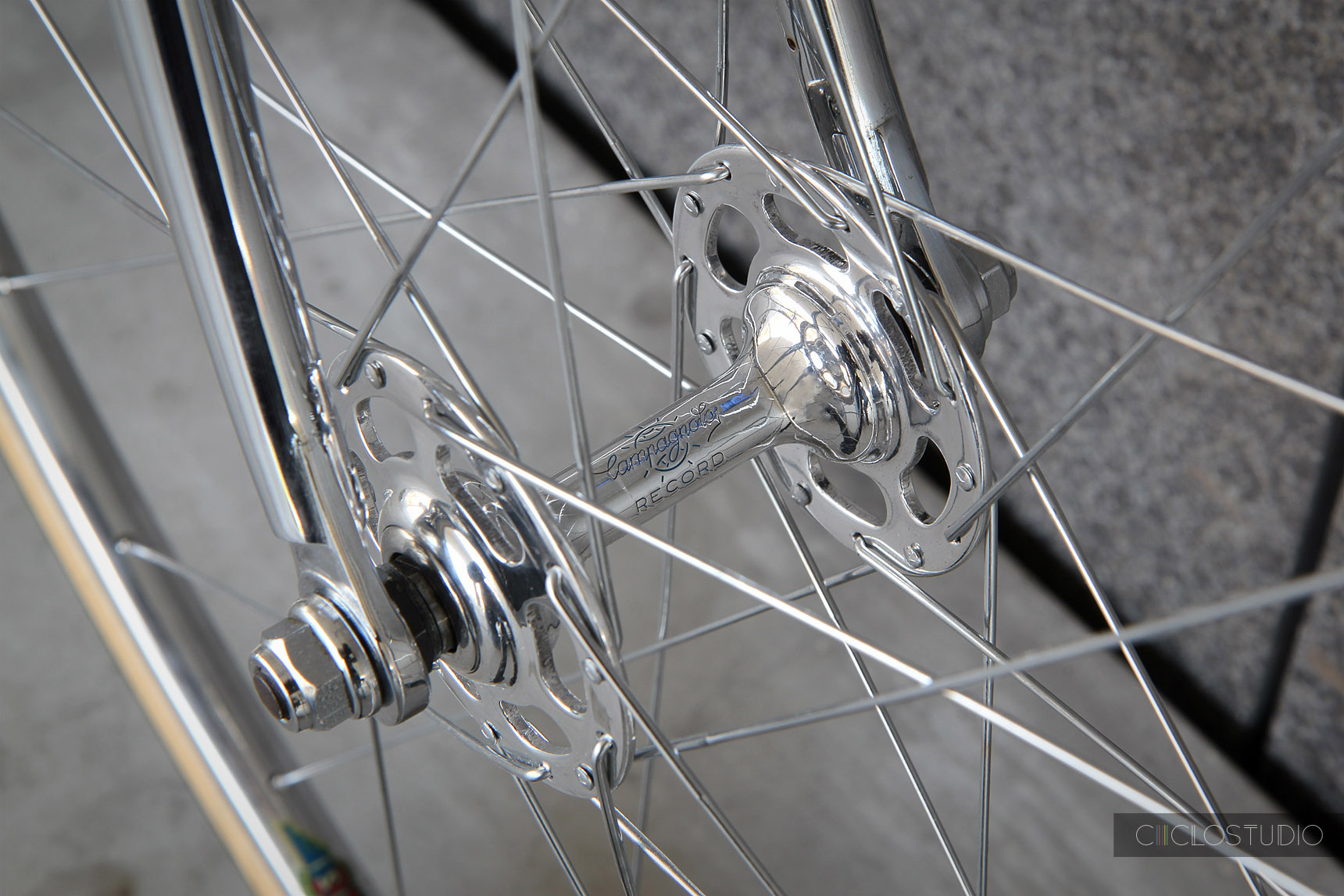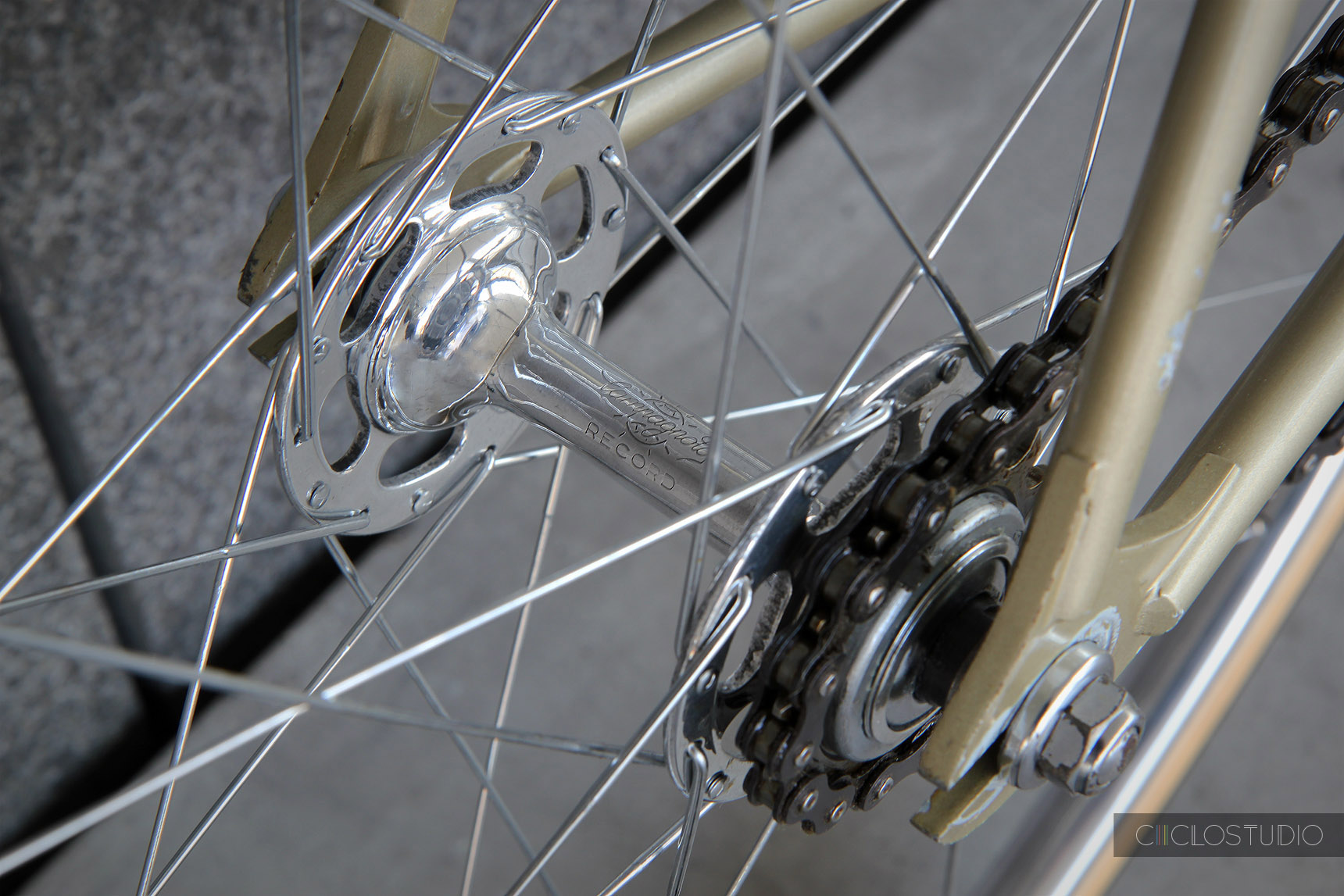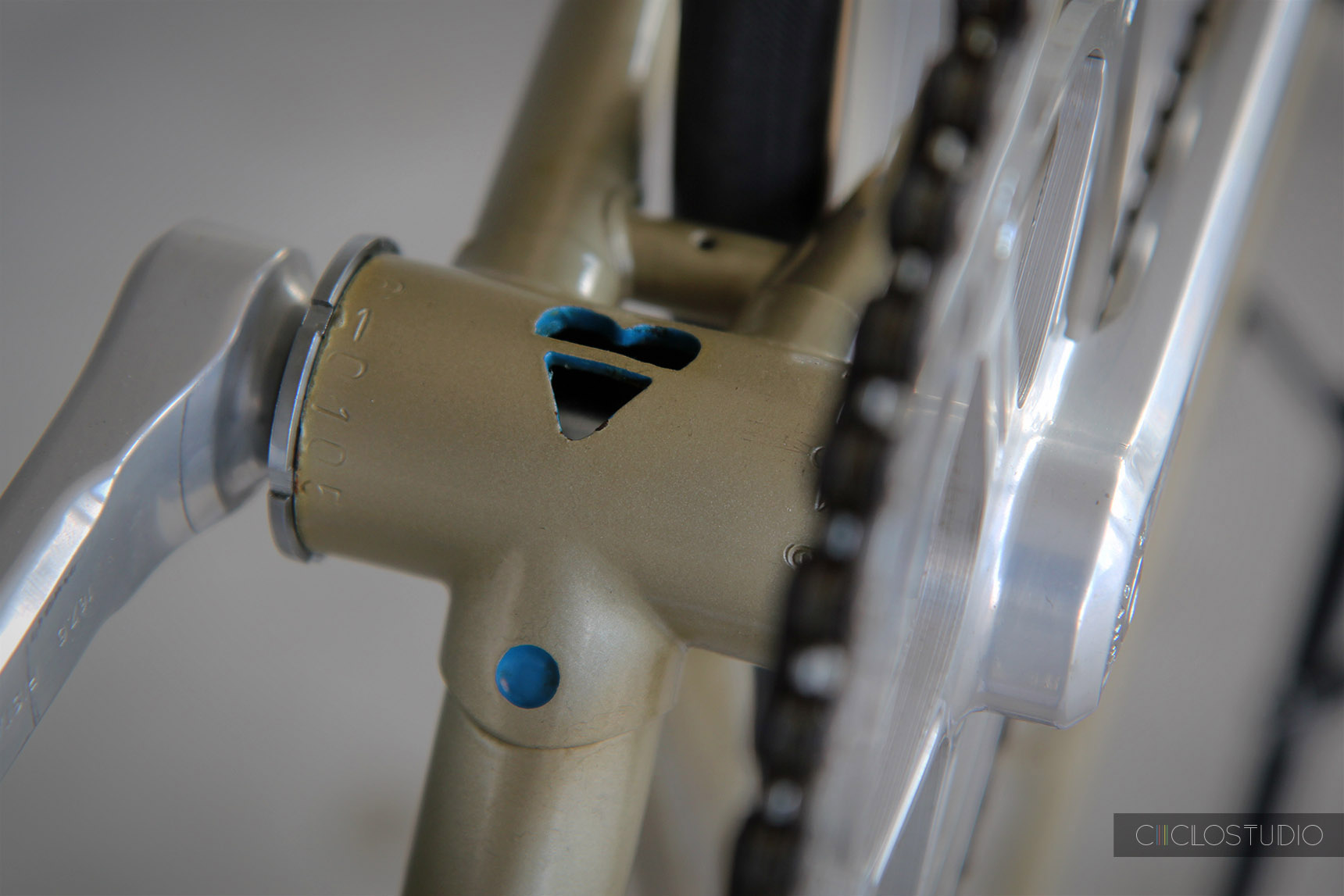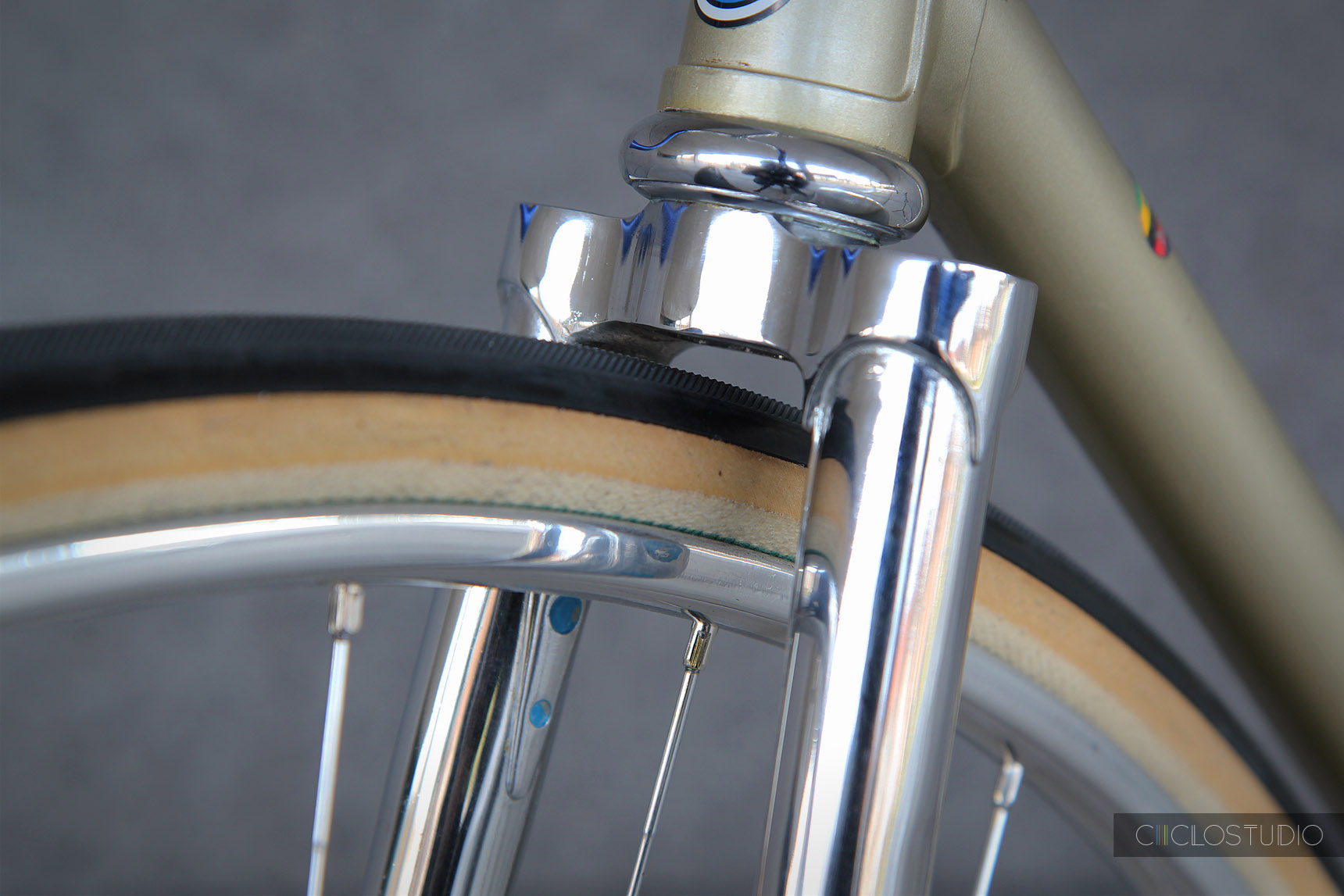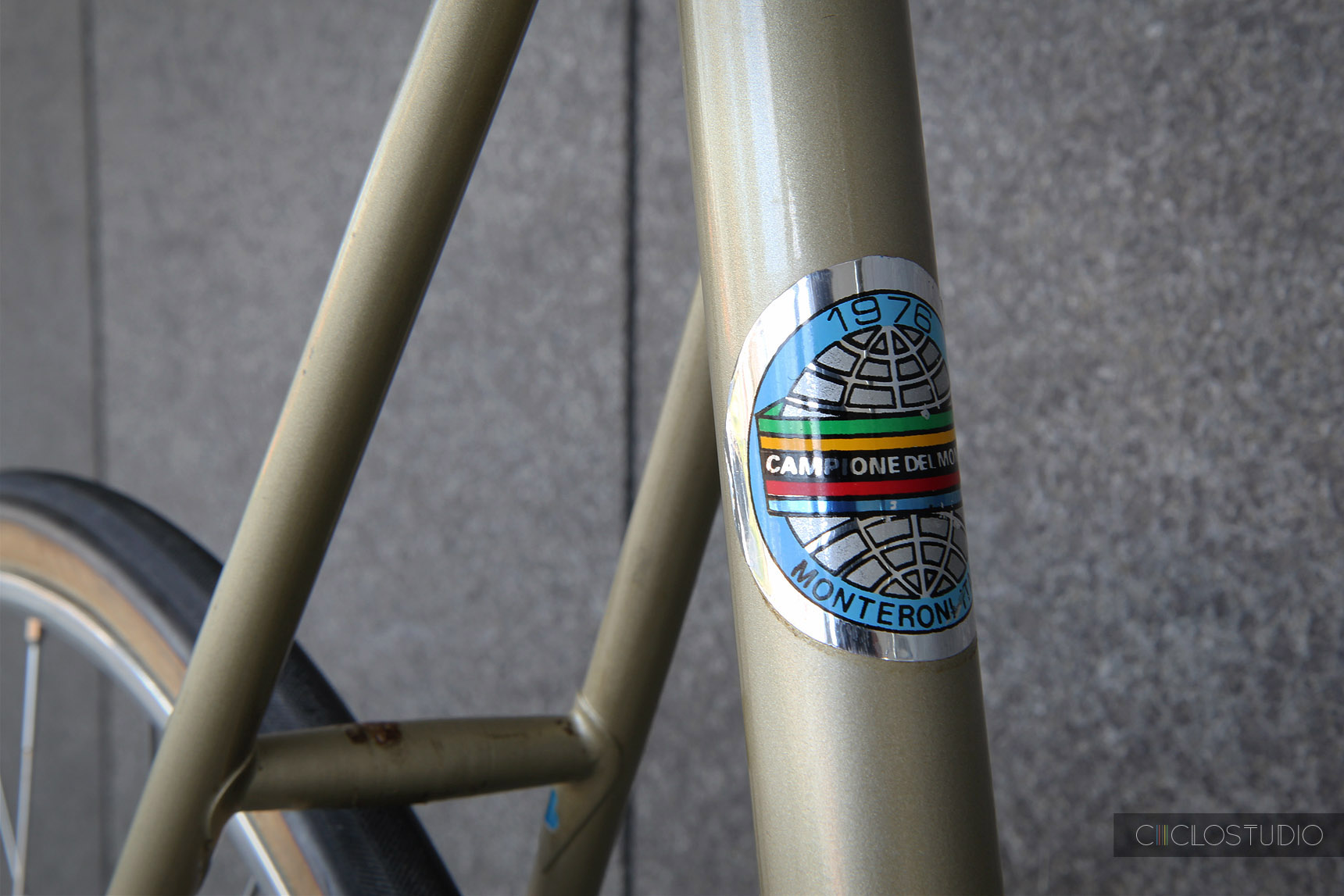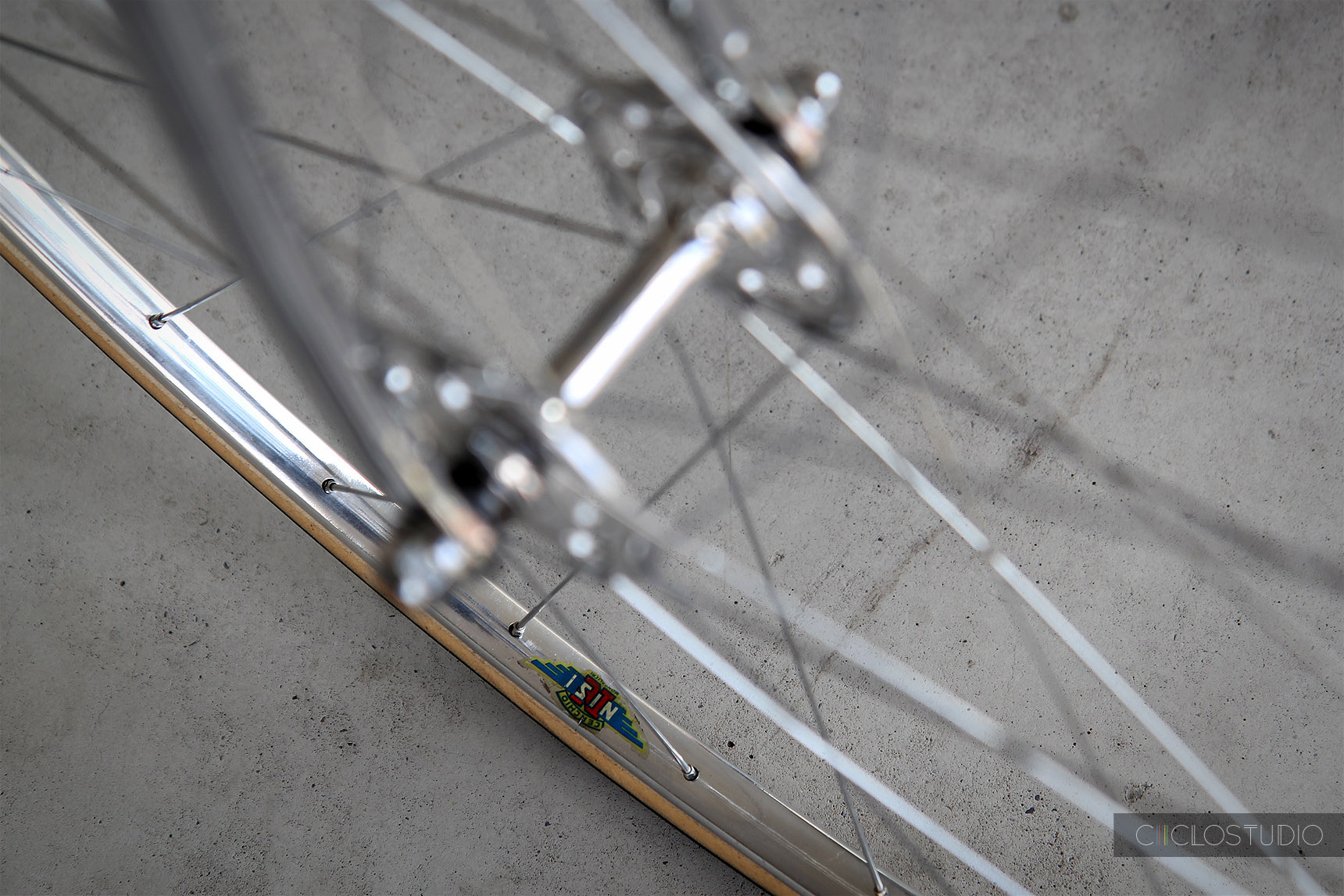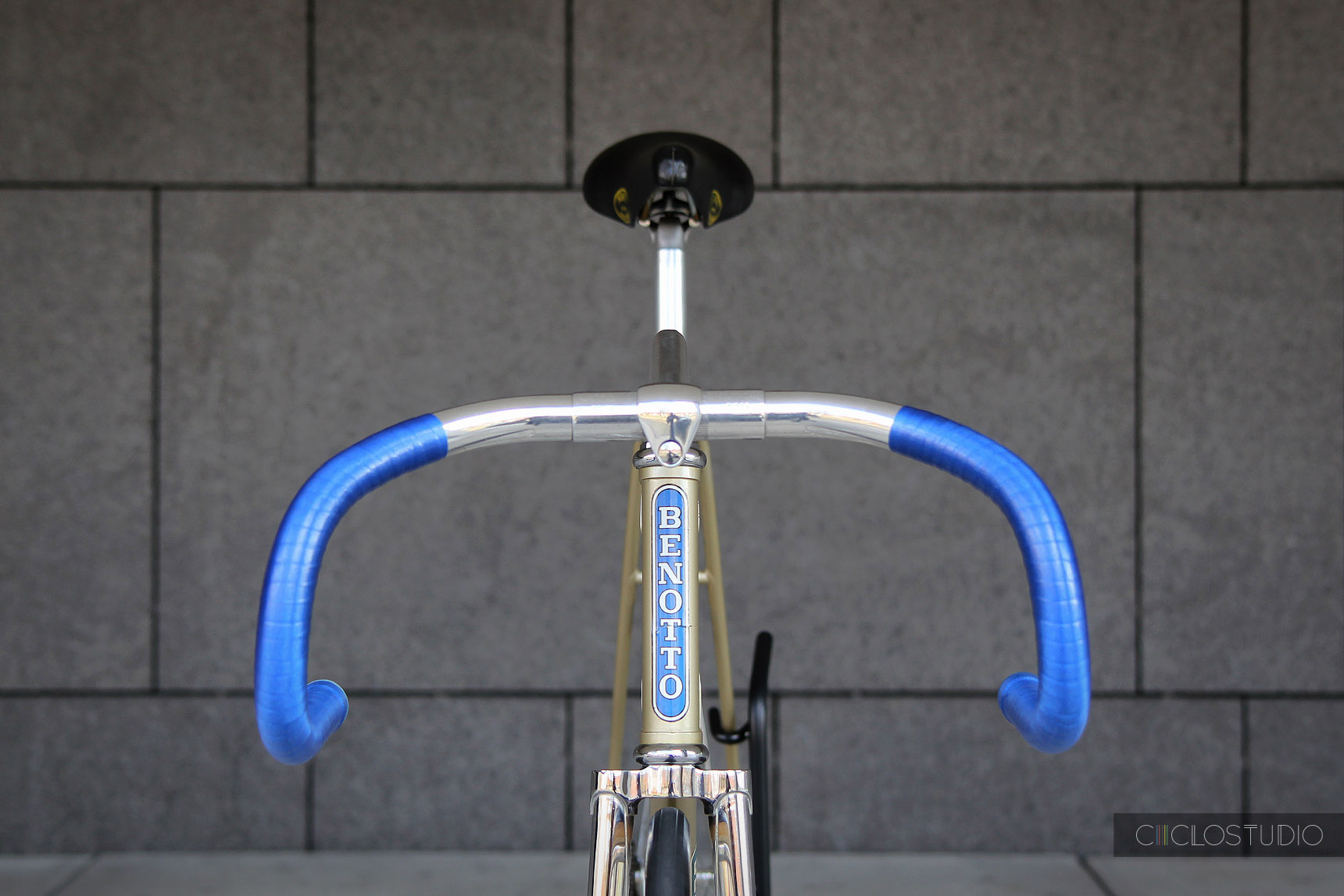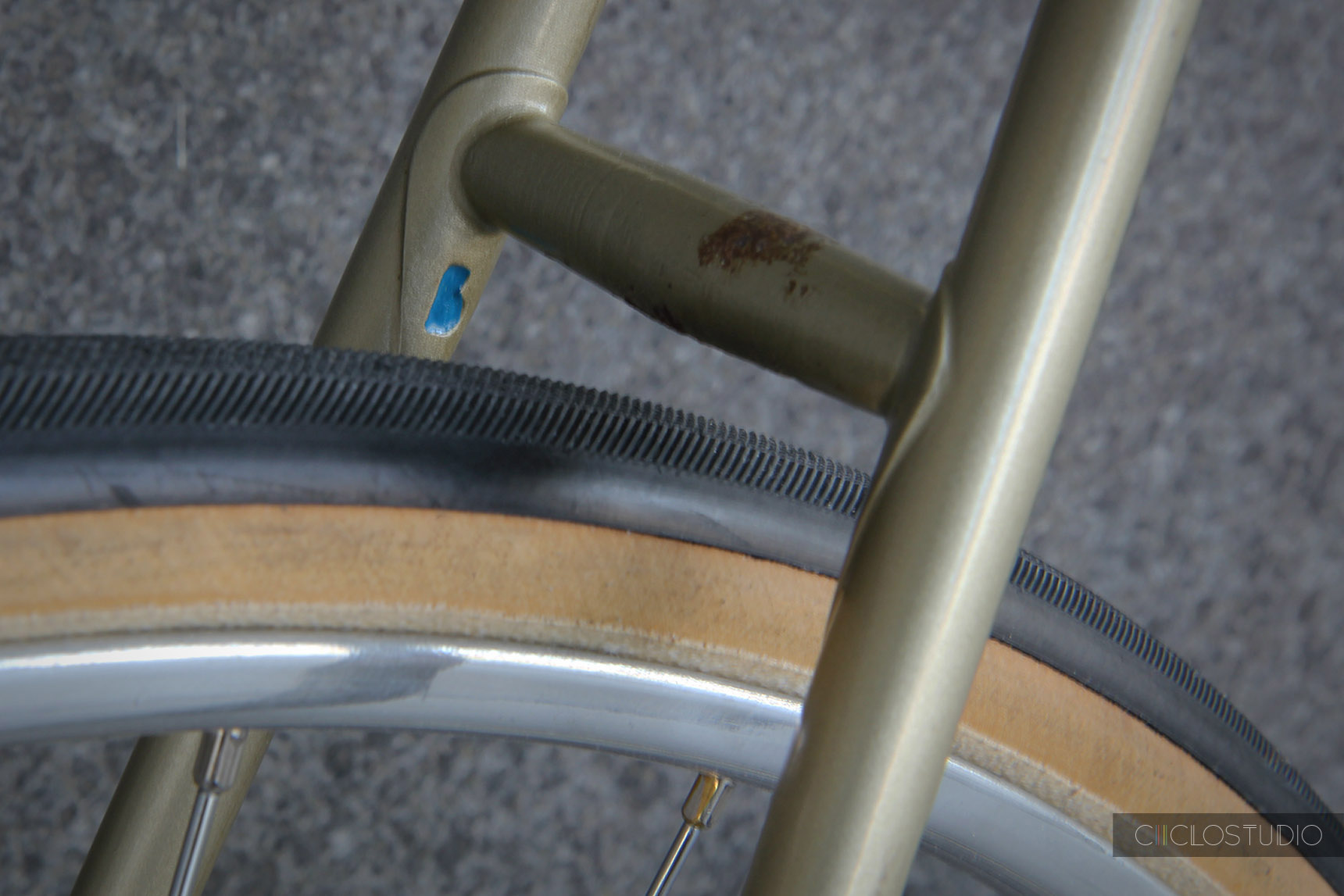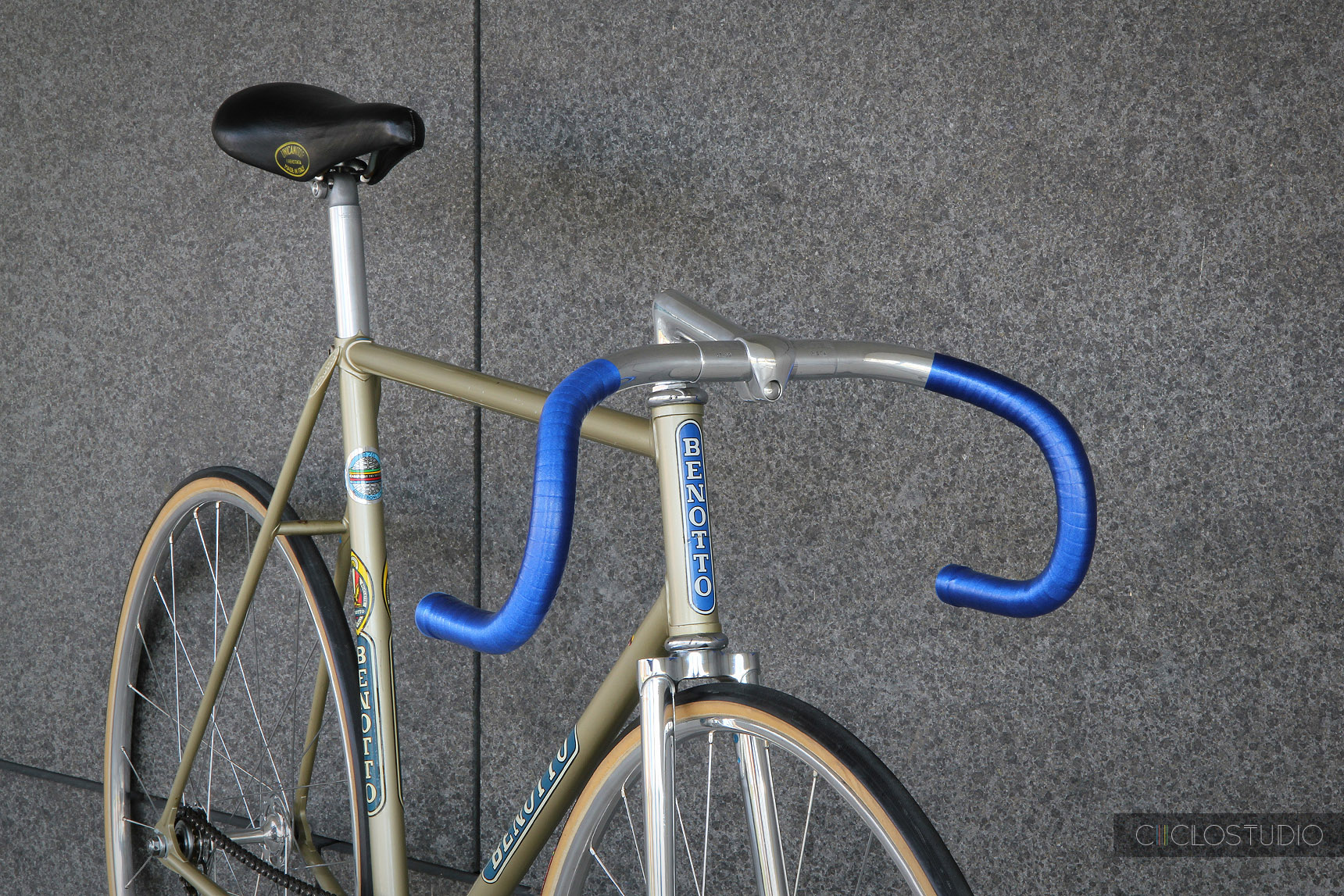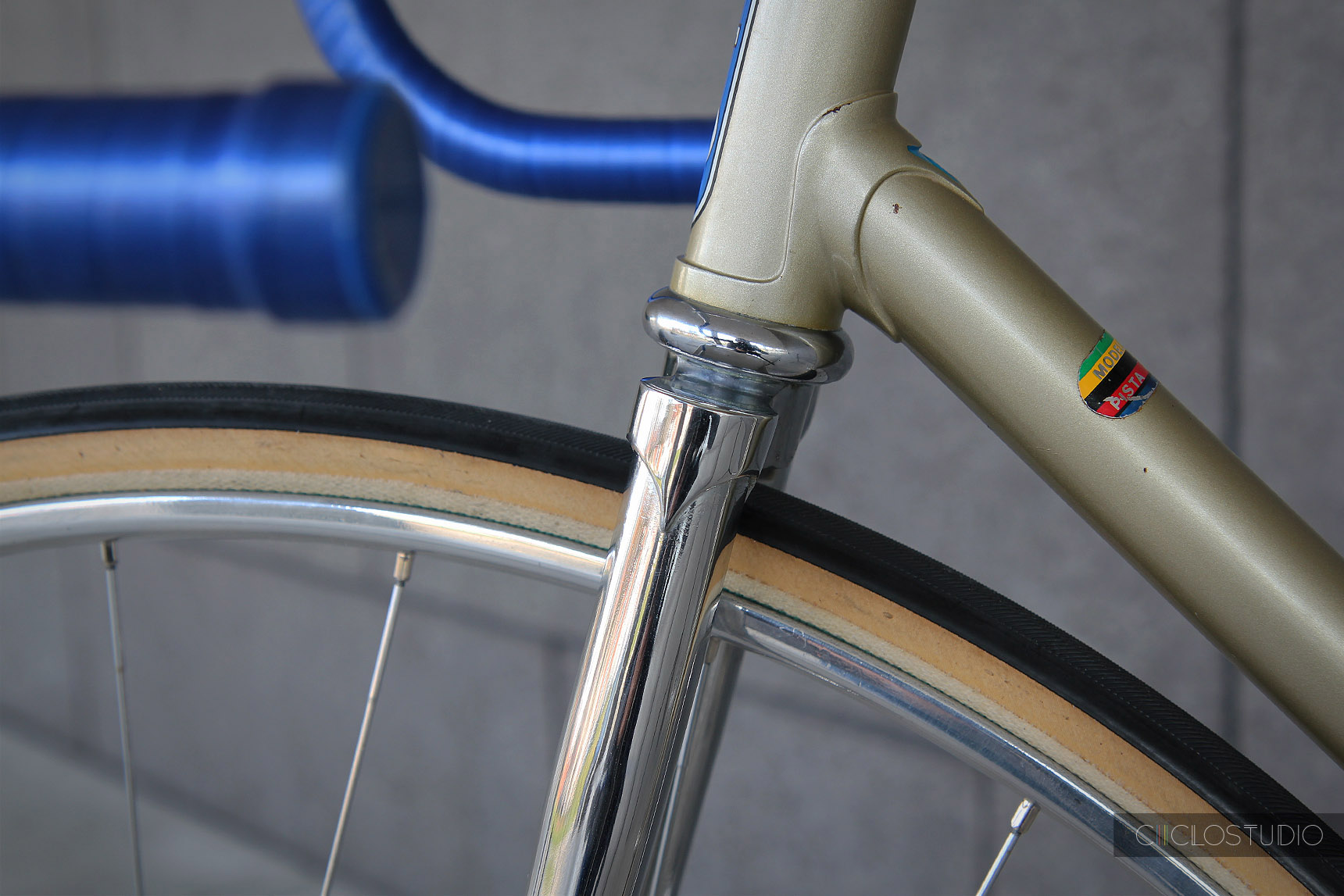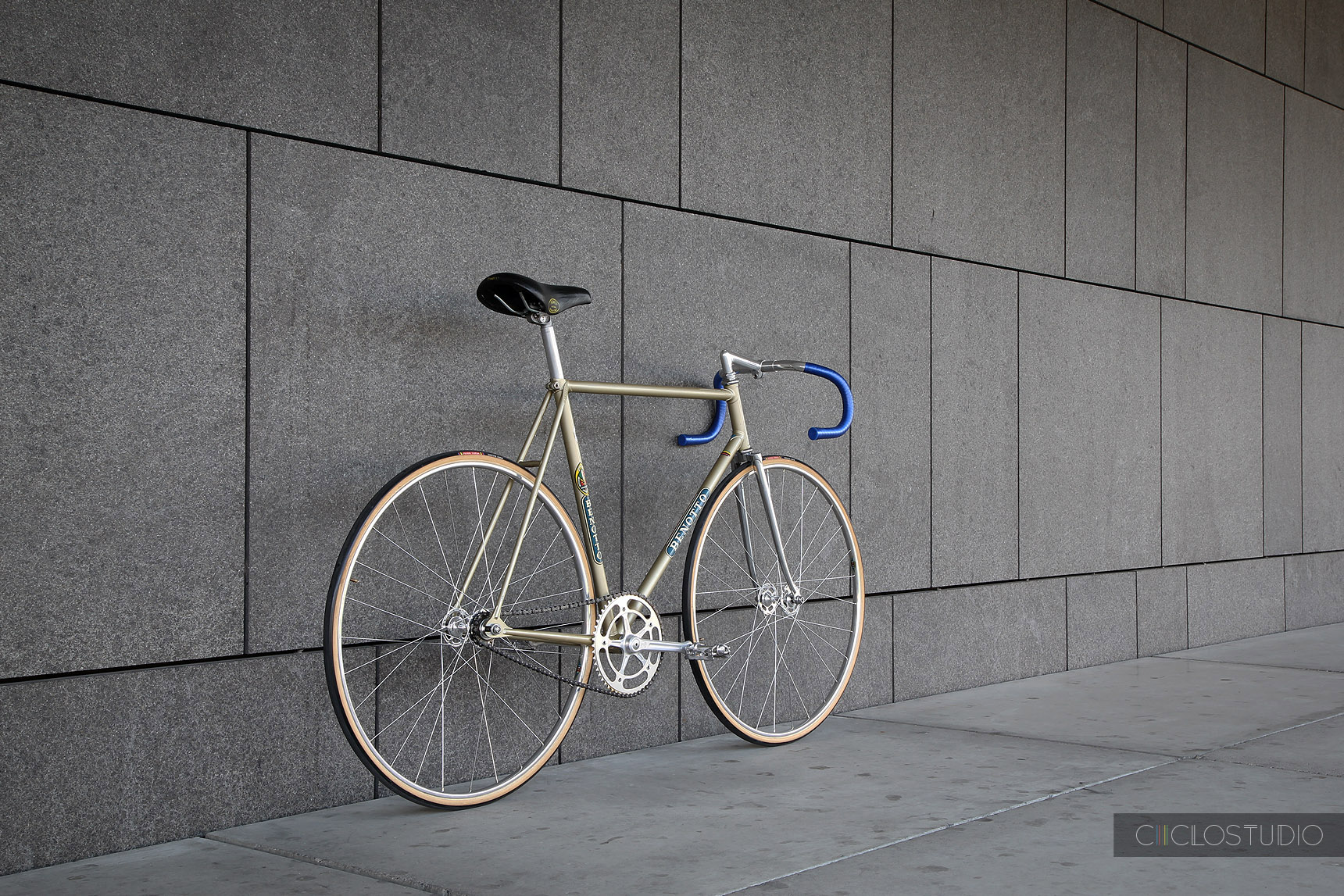 Please find some additional information on the components below:

Components
Headset
Campagnolo Record pista
Crankset
Campagnolo Record pista 167.5 – 144 BCD
Chainring
Campagnolo Record pista 52t
Sprocket
Campagnolo Record pista 15t
Chain
Wippermann Red Star 1/2 1/8
Hubs
Campagnolo Record pista 28h
Rims
NISI Pista Speciale
Pedals
Campagnolo Record pista
Stem
Cinelli 2A pista
Handlebars
Cinelli pista
Seatpost
Campagnolo Record 27.2
Saddle
Cinelli Unicanitor

Please share your thoughts via the comment form below! We welcome your comments & feedback!
Don't forget to follow us on Facebook…