Hello again and welcome to a new blog post here at Ciclostudio.
Today we are introducing another Italian classic track bicycle from our collection. As we mentioned before, we are intrigued by the precision and craftsmanship of great Italian framebuilders. Most of their classic bicycles are visual masterpieces created with attention to the finest details, resulting in maximum performance and overall cycling experience.
When it comes to vintage bicycles, there are few things as iconic as the famous "Celeste" Bianchi. Bianchi is one of the oldest bicycle brands in the world still in existence. Edoardo Bianchi started manufacturing high-quality performance bikes in his workshop in Milan from as early as the 1890s. Bianchi bicycles are traditionally painted "Celeste".  The name of Bianchi's trademark color remained, but the actual shade has varied slightly over the years and there's always been a lot of discussion and mythology surrounding the true origin of the color Celeste.
Some say that Edoardo Bianchi made a bike for an Italian queen and painted it to match the color of her eyes. Others say it is the color of the Milanese sky. Still another suggests that Eduardo Bianchi bought a ton of military paint after the First World War and mixed it with white to tone it down. We may never know the real story but one thing is certain. Celeste has come to symbolize a romanticized combination of Italian craftsmanship and cycling culture.
The Bianchi Super Pista is a high-end track bike which features a frame made of Columbus SL tubes with very minimal tolerances, Campagnolo dropouts, a short wheelbase and tight clearance. We bought this frame in Milan and got it shipped into Belgium. This frame is fully chrome plated, with the Celeste color applied on top of the chrome. It has a small B engraved in the lower head lug and a cursive Bianchi script engraved in the bottom bracket shell. This feature, together with the "gold wing" Bianchi decals was first spotted in Bianchi catalogs from 1985.
The frame has a small dent in the top tube, it looks worse than it is because the paint has chipped along the edges of this area. We decided to preserve the bike's original paint and chrome plating. The frame is mechanically in great condition, wearing the beautiful patina that only age can bring…
We collected and mounted a full Campagnolo Record Pista group, combined with a 3ttt pista steering combo. Please have a look at the pictures and feel free to share your thoughts and observations via the comment form below.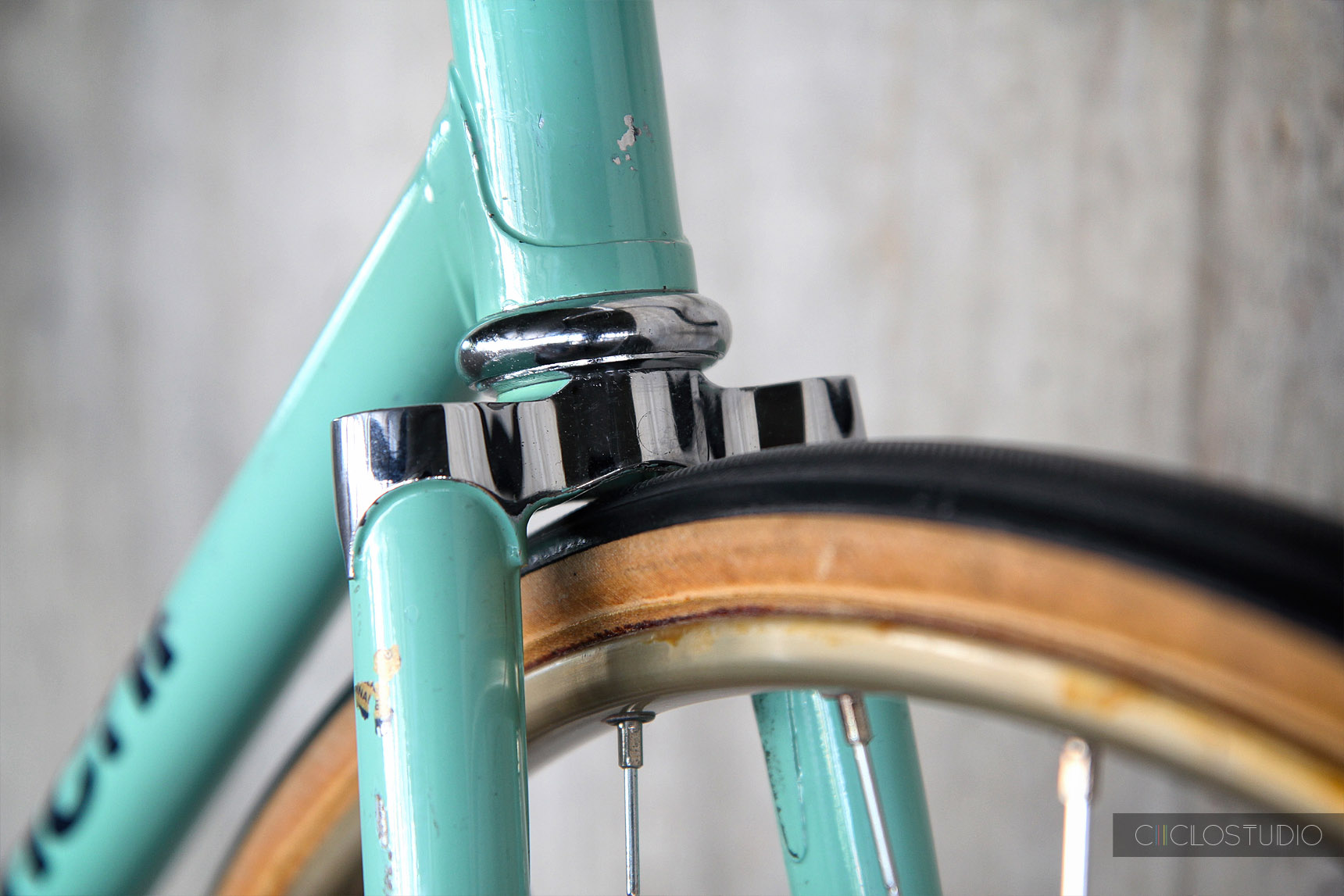 3ttt pista handlebars & 3ttt mod.3 stem, black cloth tape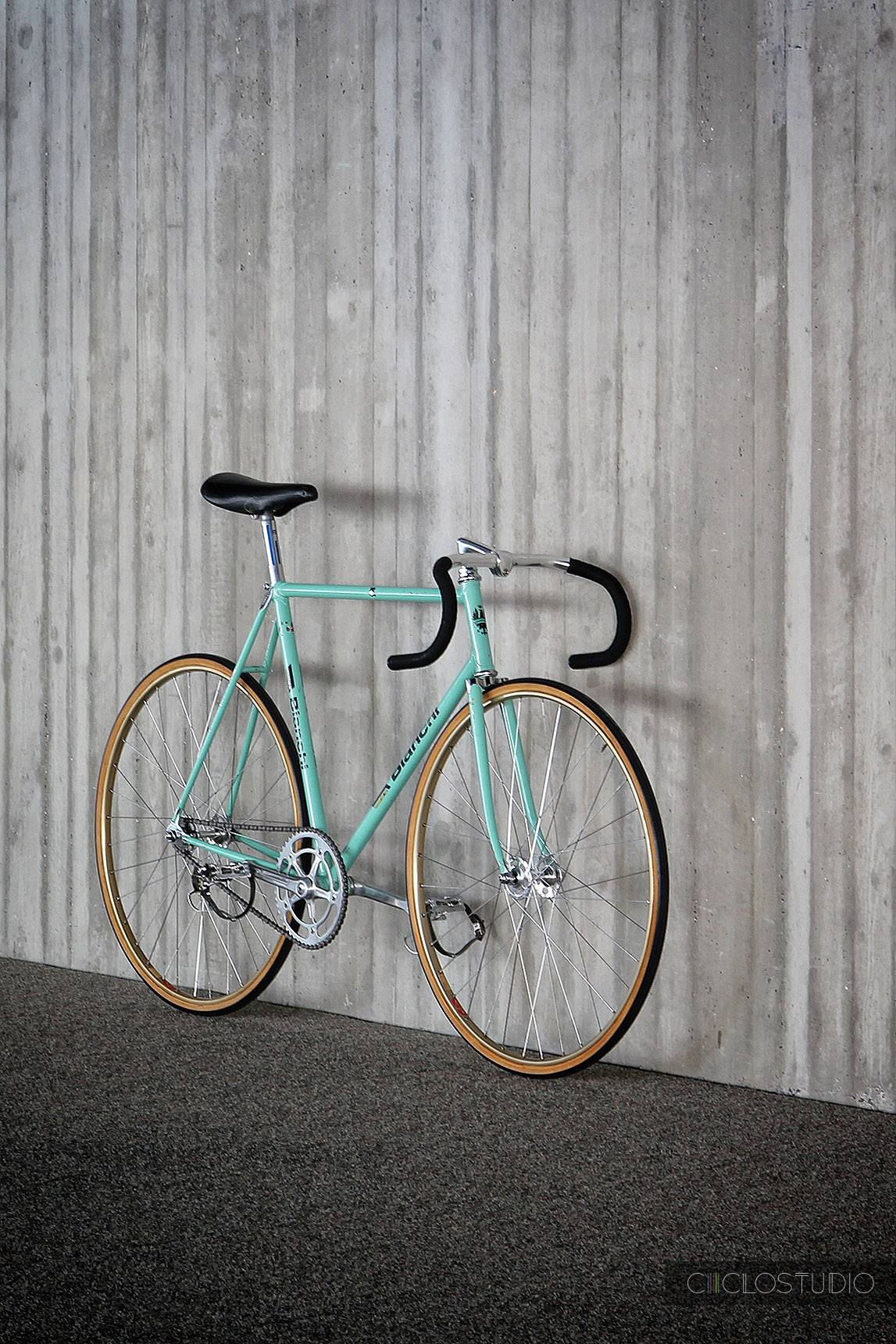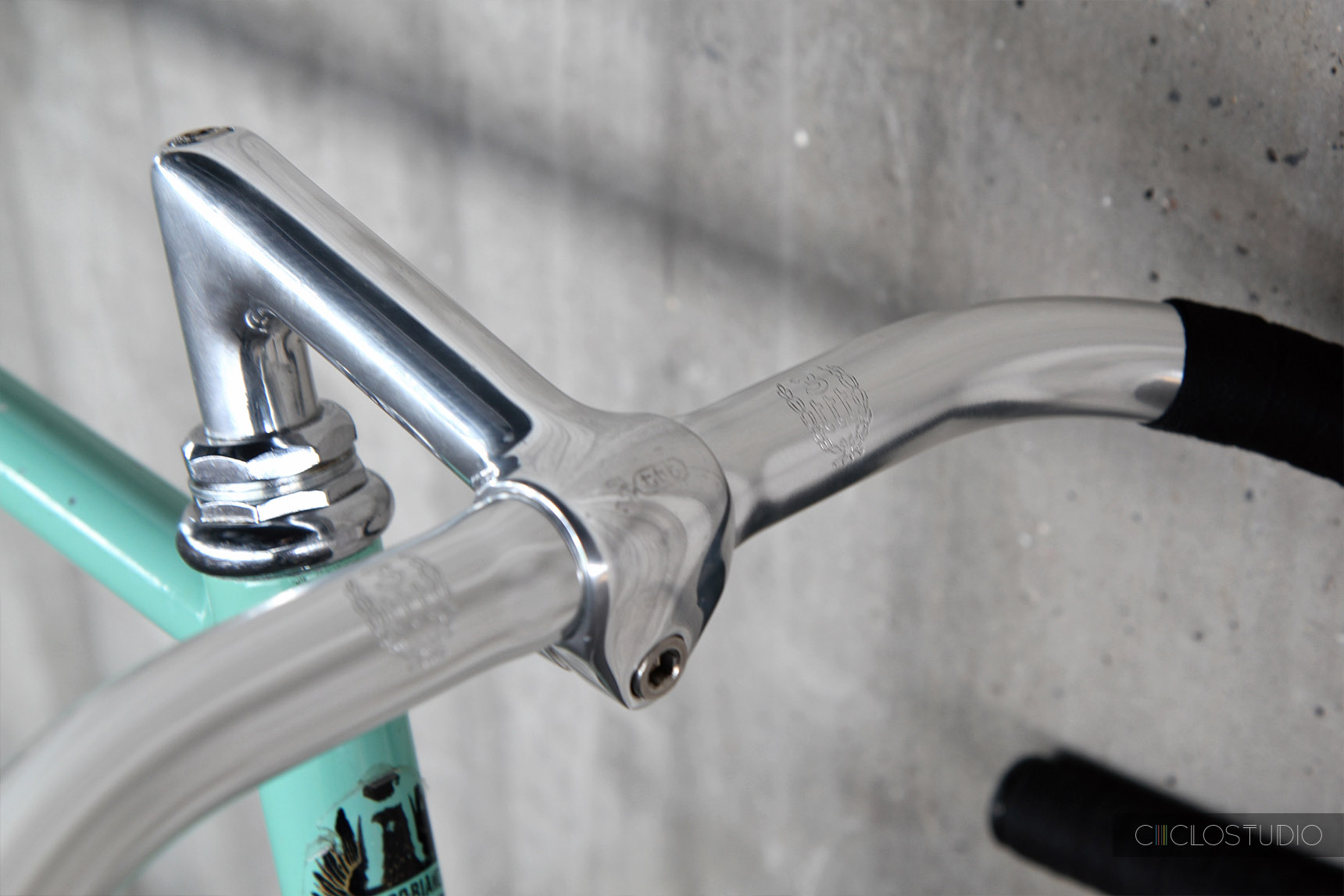 A closer look at the fork crown and lug details…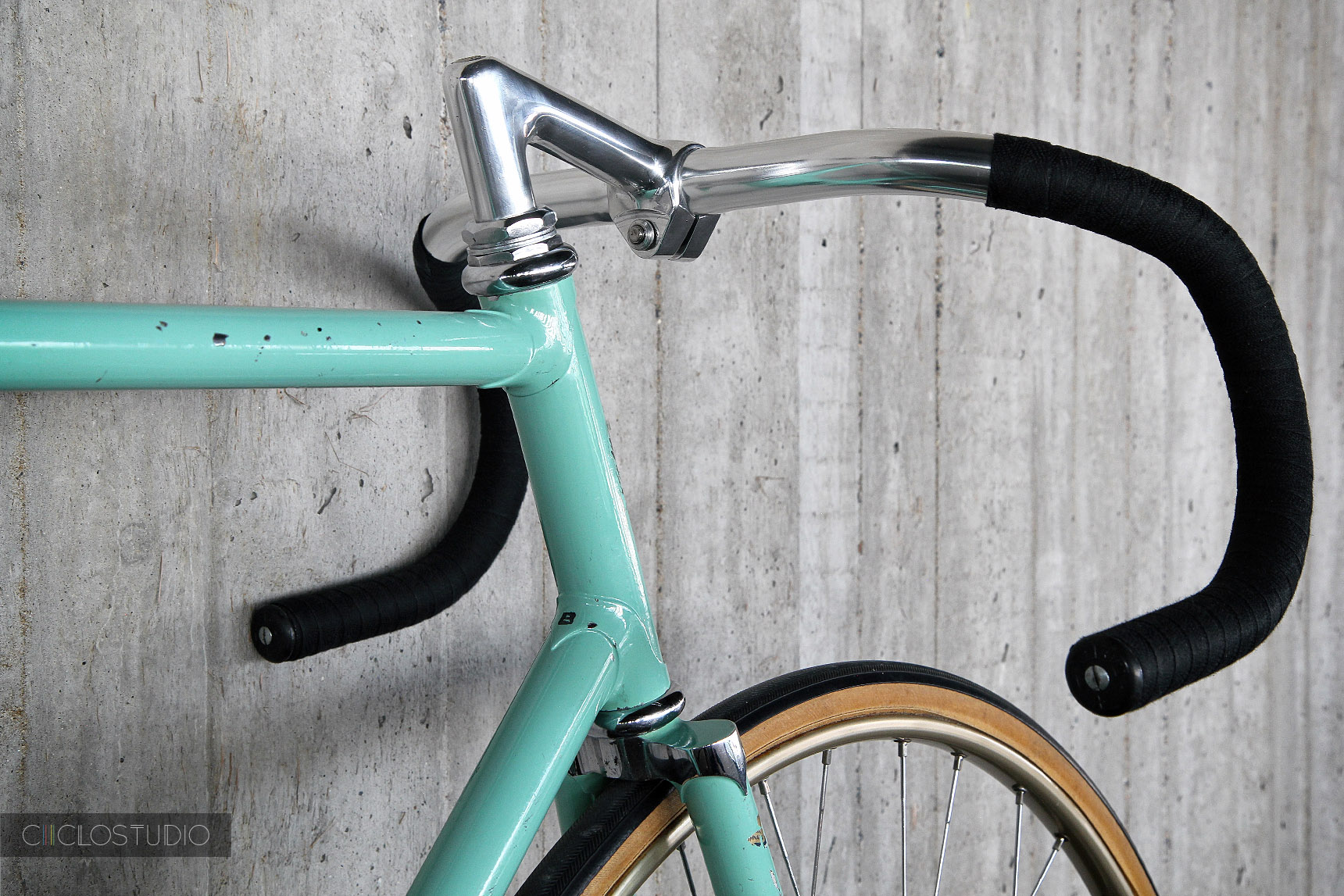 Campagnolo Record pista groupset, 170mm cranks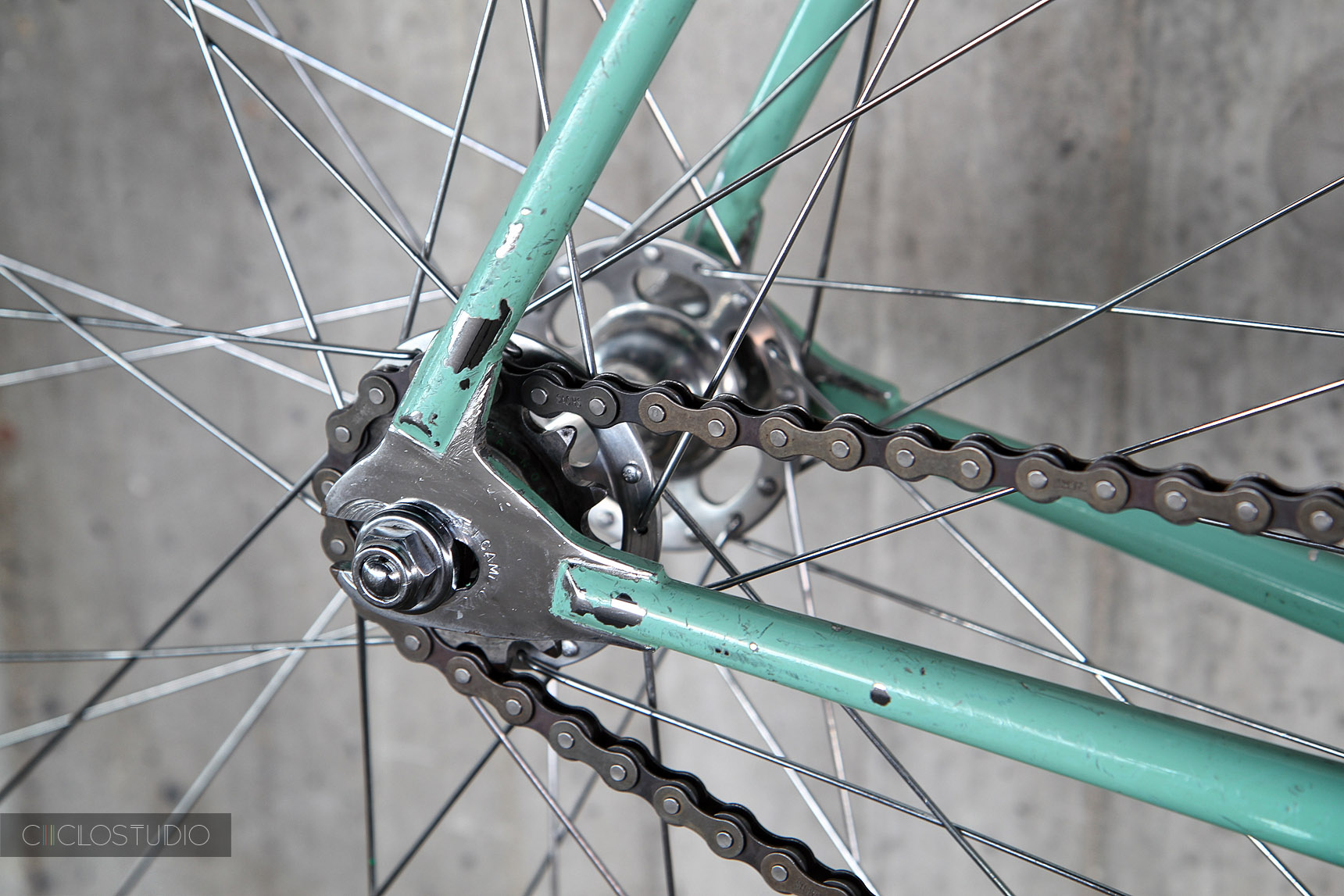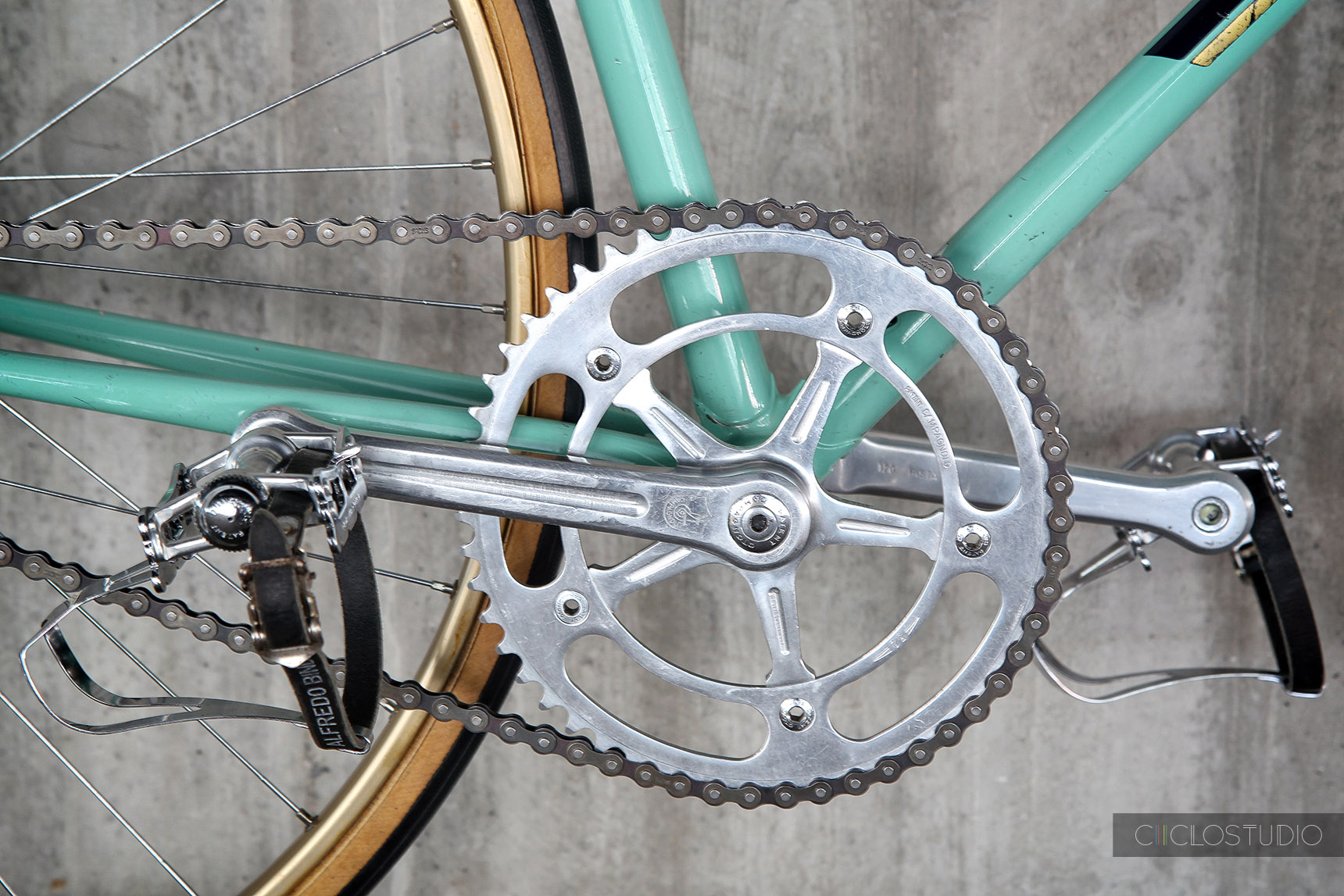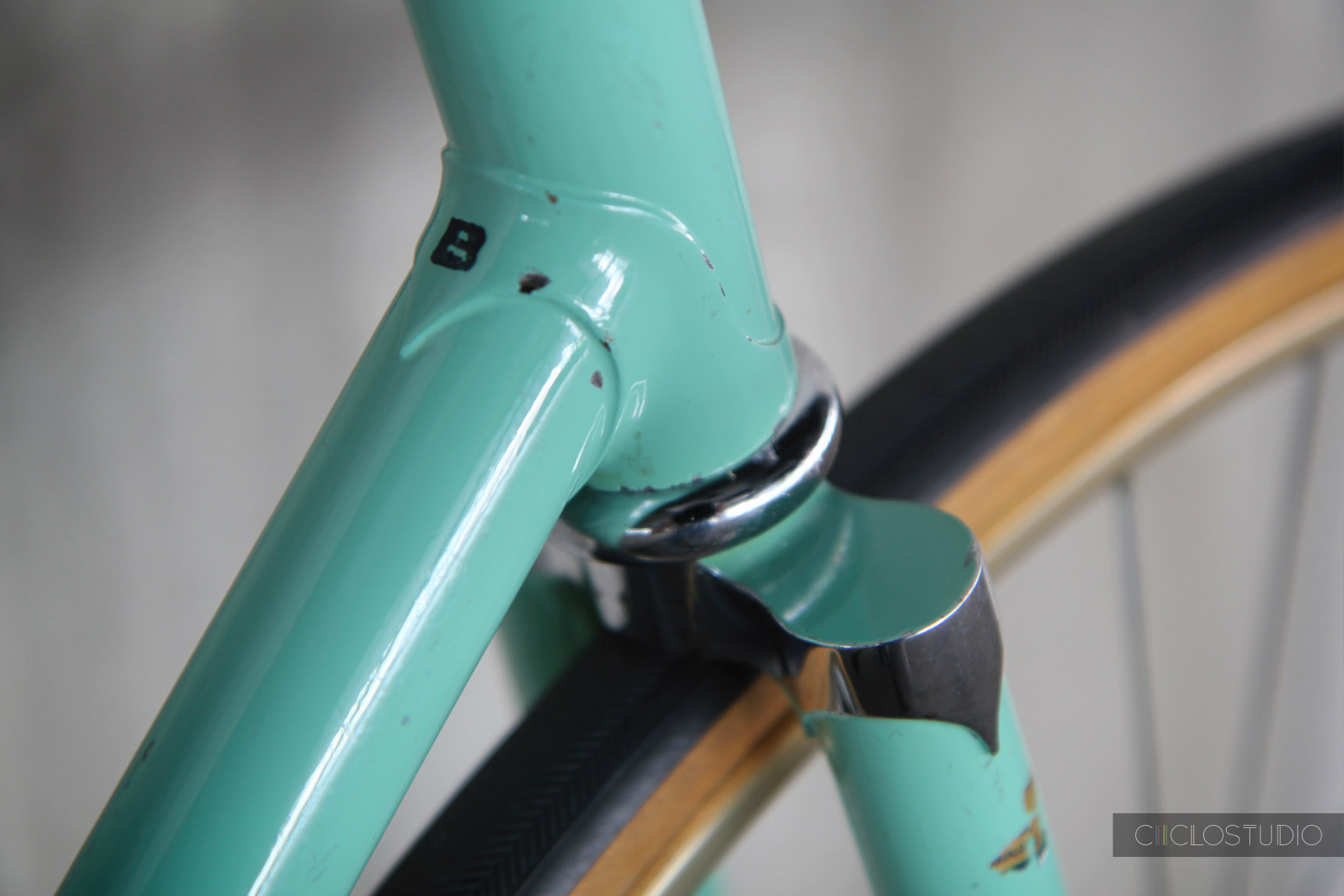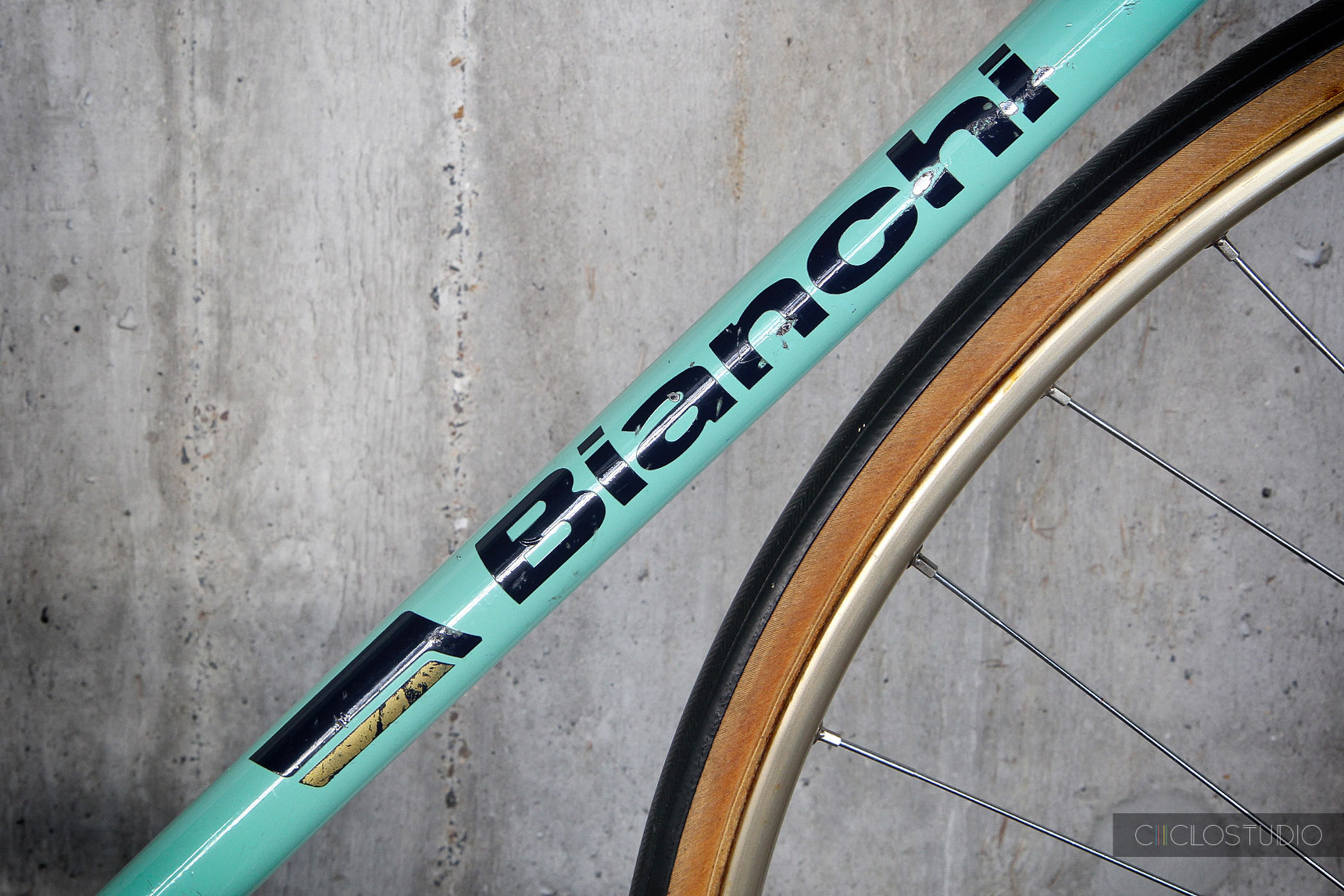 Please find some additional information on the components below:
Components
Headset
Campagnolo Record pista
Crankset
Campagnolo Record pista 170 – 151 BCD
Chainring
Campagnolo Record pista 52t
Sprocket
Campagnolo Record pista 15t
Chain
Sachs track 1/2 1/8
Hubs
Campagnolo Record pista 36h
Rims
Mavic Record du Monde de l'heure – gold
Pedals
Campagnolo Record pista
Straps
Alfredo Binda
Stem
3ttt mod.3 pista
Handlebars
3ttt pista 40cm
Seatpost
Campagnolo Record 27.2, Bianchi pantographed
Saddle
Cinelli Unicanitor
Please share your thoughts via the comment form below! We welcome your comments & feedback!
Don't forget to follow us on Facebook…